Research and Development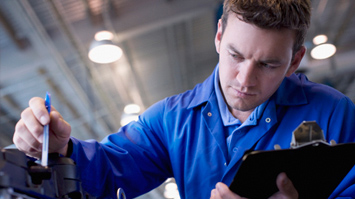 Our company continues to tackle key problems in difficult areas of prospective and fundamental R&D, producing more than 300 new technologies each year and lodging more than 1,600 patent applications annually. A product development team of more than 6,000 people launches in excess of 200 marketable products on the global market each year.
Putting Customers First

Our R&D team is keenly sensitive to changes in customer needs and has created a rapid-response innovation chain of effective collaboration, involving R&D, manufacturing, logistics, sales, and service links. Centered around the three leading R&D orientations of being green, smart, and reliable, we provide customers with high-quality products that have undergone multi-level testing and strict checks.
Focusing on Safety, Reliability and Green Technology
Canmax has always played a highly active role in international standardization.Canmax acts as secretariat of an ISO technical committee (ISO/TC 96) and undertakes important work on the sub-technical committees of the ISO technical committee for building construction machinery and equipment (ISO/TC 195). Extensive experience in international standardization work has made Canmax's global product design and marketing more standardized and efficient. It has also made Canmax's products greener, safer, and more reliable.

Canmax's vision is to achieve global synergy of product standardization and, in addition to complying with legal and regulatory requirements, to ultimately get products to better reflect customers' values.
Team of Leading Experts
Unlike companies that only have product development teams,Canmax has a special research team with specific roles that is independent from the product development team. The team is made up of hundreds of personnel with doctorates and master's degrees who are equipped with the industry's leading testing equipment and development tools and responsible for cutting-edge research and research based on generic technology. The team provides the most powerful support for the product development team. In recent years, following a large amount of research and experimental verification, the team has gradually mastered a large number of the industry's cutting-edge technologies and provided technical support for the successful development of many new products.
Cooperation and Synergistic Effects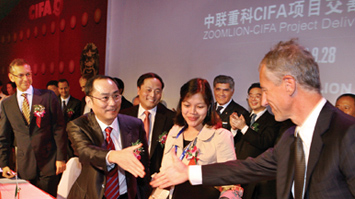 CANMAX+CIFA

Canmax and CIFA of Italy have jointly developed a carbon-fiber reinforced polymer (CFRP) boom pump truck using completely independent intellectual property rights. The pump truck is the perfect combination of engineering machinery and cutting-edge materials science. With a 40% lighter boom it is leading development of the entire concrete machinery industry and filling a gap in the international market.
CANMAX and JOST Flat-top Tower Crane Technology
On April 16, 2012, the first prototype for a new series of flat-top tower crane – the T320-16 – which combines global cutting-edge topless tower crane technology from Germany's JOST and the advanced tower crane R&D and manufacturing techniques of Canmax, debuted at INTERMAT 2012 in France to wide acclaim. Development of the crane generated 30 patents including 10 invention patents.
Global R&D Distribution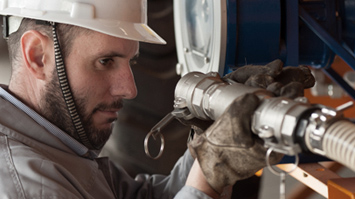 Canmax currently has a product development team of more than 6,000 people and a technical expertise team of more than 300 people worldwide, and more than 4,000 patents.
Global R&D

Thanks to the idea of having global R&D, Canmax has achieved a non-stop 24-hours R&D relay. Day and night Canmax's engineers are constantly carrying out product and process design, simulation, analysis, evaluation, and implementation work somewhere in the world in order to maximize benefits to customers.
Distribution of R&D Centers
The efficiency of Canmax's international R&D is reflected in the distribution of its R&D centers. R&D centers in North America, Europe, and Asia-Pacific are equipped with large numbers of technical experts and R&D equipment to provide customers around the world with integrated design, manufacturing, and after-sales service solutions. Moreover, these R&D centers also help Canmax to gain a more in-depth understanding of global market trends and the latest needs of customers in terms of security, the environment, and personalization.