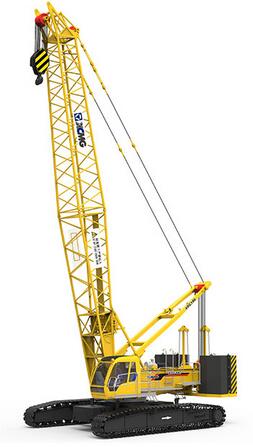 1.High lifting performance, wide application range
1)Boom max. lifting capacity/radius 180t/5m, boom max. load moment 1000.8tm.
2)Boom max. length+luffing jib max. length 58m+59m, luffing jib max. lifting capacity 50t.
3)Fixed jib max. lifting capacity 33.5t.
1.2.Easy transport
1)Basic machine max. transport weight only 39t, max. transport width only 3m.
2)Transport without removing mast and winch, luffing jib base and front and rear strut transported as one part.
2.3.Complete self assembly/disassembly system (Optional Function)
1)Use mast for assembly/disassembly of left/right track frame, car-body counterweight, superstructure counterweight, and boom assembly and hoisting.
2)Counterweight raising mechanism to achieve assembly/disassembly of superstructure counterweight, work easily and quickly.
1)2)3)Car-body and track frame, boom and turntable, turntable and counterweight, all pin shafts use hydraulic power connection, easy for assembly and disassembly.
3.4.New work/installation mode switch-over and mast one-key-raising added, use remote control of assembly/disassembly, greatly improved security and convenience for basic machine assembly/disassembly.
5.Crane travel uses pedal valve control, with automatic direction change, make easier travel operation.
6.Boom main chord uses variable wall thickness design, enhanced lifting capacity while reduced dead weight.
7.Four sets of supporting roller added in central crawler frame, reduced the wear to track shoes, and make more stable travel.
8.Improved bracket design on driver's cab, reduced the impact to the cab in transport.
9.Fine motion control of main pump flow added to make more stable operation.
10.Swing mechanism consists of two sets of slewing reducer with eccentric rotary gear and motor drive, increased swing smoothness.
11.Boom head single top uses new structure, larger spacing between main and auxiliary hook, easy for loading, and while easy for self assembly.
12.Control system is electronic proportional pump control variable system, simple, reliable, with good fine motion performance.
13.Hoist system uses electronic control + pressure cut-off type variable motor, to avoid the second decline and improve operational safety.
Item

Unit

Data

Max. rated lifting capacity

Base boom

t

180

Fixed jib

t

33.5

Luffing jib

t

50

Max. load moment

t.m

1043.8

Boom length

m

19~82

Boo luffing angle

Boom working condition

°

30~83

Tower jib working condition

°

30~85

Fixed jib working condition

°

30~85

Fixed jib length

m

13~31

Tower jib length

m

20~59

Hoist winch max. single line speed (no load, at 5th layer)

m/min

120

Boom luffing winch max. single line speed (no load, at 3rd layer)

m/min

2×34

Jib luffing winch max. single line speed (no load, at 2nd layer)

m/min

41.6

Max. slewing speed

r/min

1.5 (high-speed gear)

r/min

0.7 (Low-speed gear)

Max. travel speed

km/h

1.3 (high-speed gear)

km/h

0.4 (low-speed gear)

Grade-ability

%

30

Mean ground pressure

MPa

0.105

Engine output power

kW

242

Total vehicle mass (main hook block, full counterweight, 19m boom)

t

175

Max. mass of single unit in transport state

t

37

Max. dimension of single unit (turntable) in transport state (L×W×H)

m

12.5×3.0×3.3
Working condition

Boom combination

Max. lifting height (m)

Working radius (m)

Max. lifting capacity (t)

Boom

19~82 m

80

5~70

180

Fixed jib

Boom 25~70m,

98

9~76

33.5

jib 13~31m

Tower jib

Boom 25~58m,

114

10~74

50

jib 20~59m

Single top

Boom head

Increased 1.5m

13.5