XCMG Plans to Invest USD150 Million for A New Factory in India
2017/3/28 15:57:02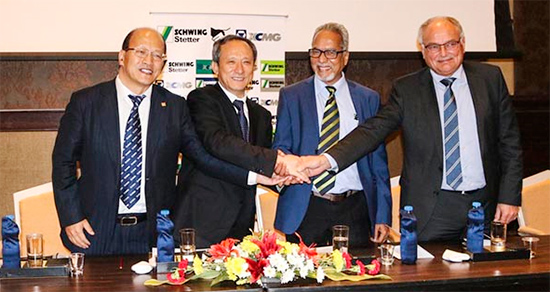 On the evening of January 12 local time, XCMG organized a press conference in Chennai of India, at which XCMG Chairman Wang Min announced the Group would invest USD150 million to build a new factory in the country.

When staying in India on January 10-13, Chairman Wang Min visited all Schwing factories in the country to comprehend the situation and listen to reports made by top management about operations and future market expansion. At the same time, he also made surveys of Indian market, met with local dealers, convened meetings and made clear orientations and specific measures in the local market.
When visiting Schwing factories in India, local workers were excited to shake hands with Chairman Wang Min, who listened to reports given by top management of Schwing Germany and Schwing India about their operations. After listening to the report by sales team of Schwing India, Chairman Wang Min said Indian market had great potential. Year 2017 marked XCMG India Year. XCMG will select its strong products to launch into Indian market.
On the evening of January 12, XCMG held a press conference in Chennai attended by famous Indian media. At the press conference, Chairman Wang Min announced that XCMG would invest USD150 million to build a new factory of construction machinery in the country. Efforts will be made to ensure the first span of workshop is completed by the end of the year. At the same time, XCMG will make full use of the existing sales system of Schwing India to expand the market and serve Indian clients.
Also present at the event were XCMG President Assistants Liu Jiansen and Wang Qingzhu, Schwing Germany General Managers Abolins and Gerhard Schwing, General Manager Sundaresan of Schwing India and directors from XCMG Investments and XCMG Overseas Development, etc.