XCMG Launched "One Belt, One Road"Overseas Service Activity
2017/3/28 16:34:00
On May 29, envoys from 18 countries to China along "One Belt, One Road", gathered at XCMG to launch the "One Belt, One Road" Overseas Service Activity with the theme of "New Silk Road, New Service".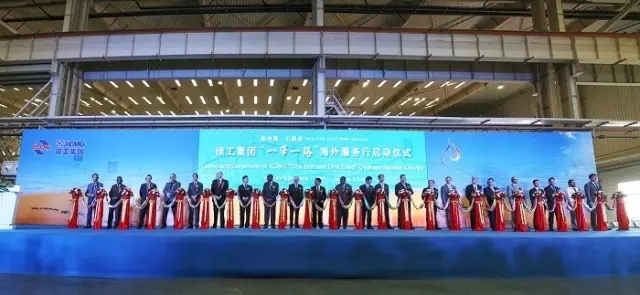 The Launching Ceremony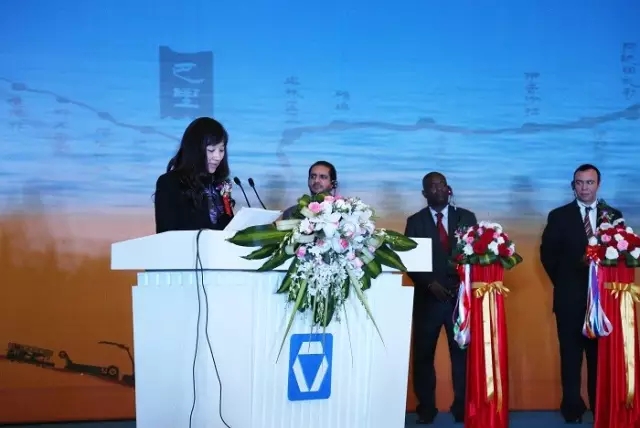 Han Bing, Vice General Manager of XCMG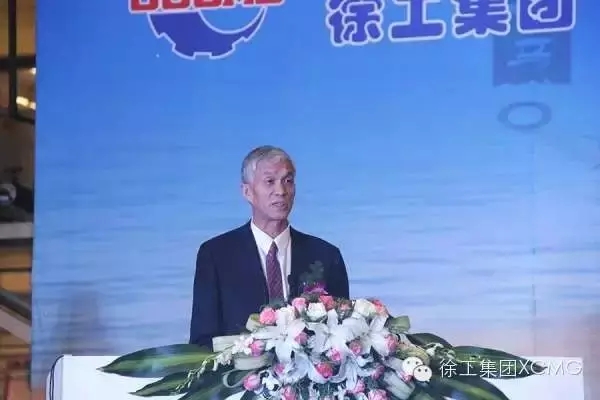 Qi Jun, President of CCMA
Mr. Wang Min, president of XCMG linked up multicolored silk ribbons symbolizing interconnection of the "One Belt, One Road" together with all the envoys, and presented flags to representatives of the overseas service teams. At the same time, launching ceremony of the service activity was held in 20 countries. The grand ceremony was attended by more than 300 persons, including 23 domestic and overseas journalists from CCTV, China National Radio, Chinanews.com, Phoenix TV, China Industry News, etc.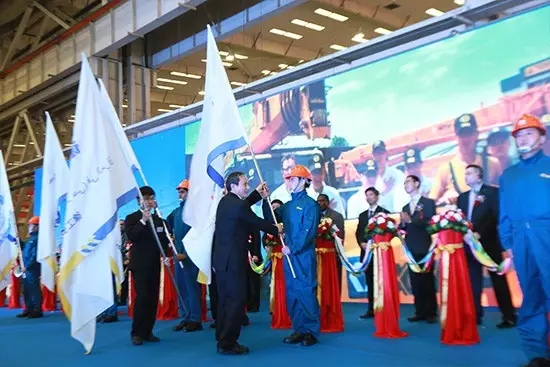 Wang Min, President of XCMG Presenting Flags to Service Team
After the ceremony, Seminar on XCMG "One Belt, One Road" Cooperation and Development was held. On the seminar, the 27 envoys to China, officials from Jiangsu provincial government and Xuzhou municipal government, and management team of XCMG gathered together, discussing business opportunities deriving from the "One Belt, One Road" strategy.
"One Belt, One Road" is a new strategy, guideline, and measure put forward by Chinese government under the economic situation of "New Normal", Implementation of the strategy will bring China construction machinery industry historical opportunities. XCMG is by far the first company in the field to react and respond to the strategy. The overseas service activity is the first action XCMG takes to promote its market share in countries along the belt and road.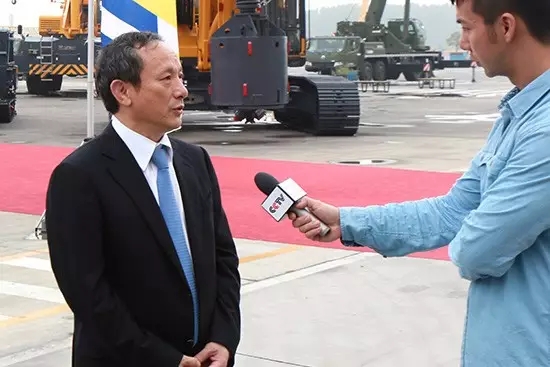 Wang Min, President of XCMG in Interview
XCMG defines internationalization as its core strategy and its preliminary international marketing deployment lays a solid foundation for its development along the belt and road. As the leader of China's construction machinery manufacturers, XCMG has a leading position in the countries along those countries. It has established a mature marketing network covering 65 countries in Central Asia, West Asia, North Africa, Europe, and Asia-pacificregion. It has also set up branches and subsidiaries in Russia, India, and Poland, etc., and KD factories in Uzbekistan, Poland, Kazakhstan, Malaysia, and Iran, etc. In addition, XCMG bought SCHWING and FT in Germany and AMCA in Netherlands. Besides, it has R&D centers in Europe, America, and India.

In recent years, Uzbekistan encouraged foreign investment in the fields of industry and agriculture, which accordingly drives up the demand for construction machinery sharply. Responding to this change, XCMG decided to found a JV factory in Uzbekistan In 2013. The factory was put into operation in 2014 and brought in profits that same year. Since then, XCMG's share in the loal market grow rapidly. In 2014, despite the 8.13% decline of export in the field in China, XCMG's export to Uzbekistan realized robust growth and exported 614 machinesto the country.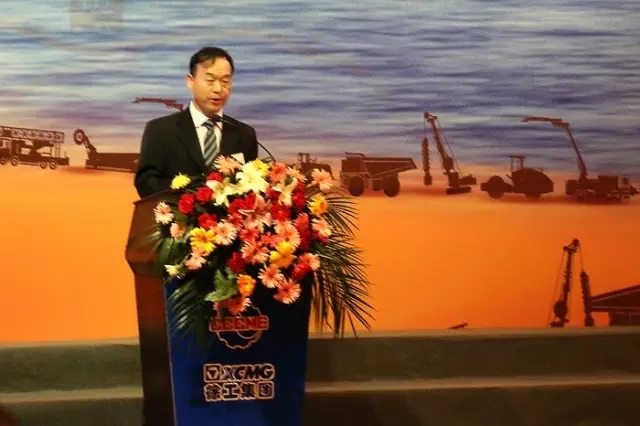 Sun Jianzhong, Vice President of XCMG and Chairman of XCMG Imp.&Exp. Company
"JV factories may enjoy preferential policies in relation totariff and VAT, etc., which helps improve competitiveness of the product.The factories play an important role in XCMG's development along the belt and road,and more factories will be set up,in Central Asia, South Asia, SE Asia, and Eastern Europe." said Sun Jianzhong, vice president of XCMG and chairman of XCMG Import & Export company.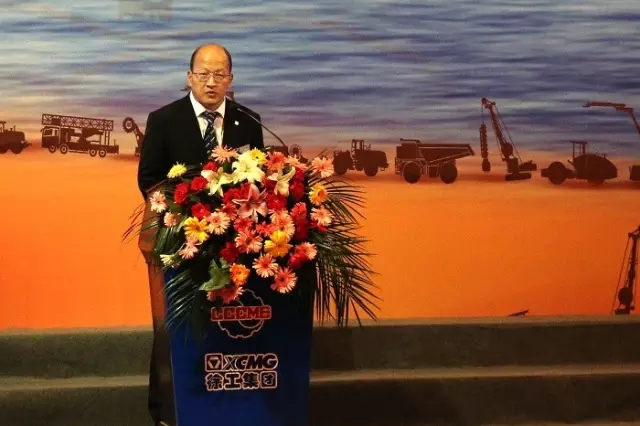 Liu Jiansen, General Manager of XCMG Imp.&Exp. Company
Presently, XCMG is planning construction of its Uzbekistan Factory (Phase II), so as to produce a series of crawler and wheel-type hydraulic excavators, bulldozers, and tractors, etc. By virtue of implementation of China's "One Belt, One Road" strategy, XCMG will quicken construction and development of XCMG Uzbekistan Factory, with a view to radiating to surrounding countries and regions, and further advancing XCMG's market exploration and brand awareness in Central Asia. In the meantime, XCMG willactively boost progress and upgrade of Uzbekistan's industrial sector,particularly its construction machinery manufacturing industry, in order torealize mutual benefits and win-win.
XCMG's market share in Kazakhstan has reached 80%, outshining other brands from around the world. You can see golden XCMG machines in construction sites all around the country. In SE Asia regions like Philippines, Malaysia, and Indonesia, etc., XCMG crawler crane has more striking advantages. In Sudan and Qatar, etc., XCMG products enjoy exceedingly high market presence as well. To facilitate Qatar to host the World Cup, XCMG dealers offer $50 million worth of equipments in the construction of stadiums..You can also find lots of XCMG equipments serving at mines and railways construction in Laos, Indonesia, Uzbekistan,Turkey.and the Middle East.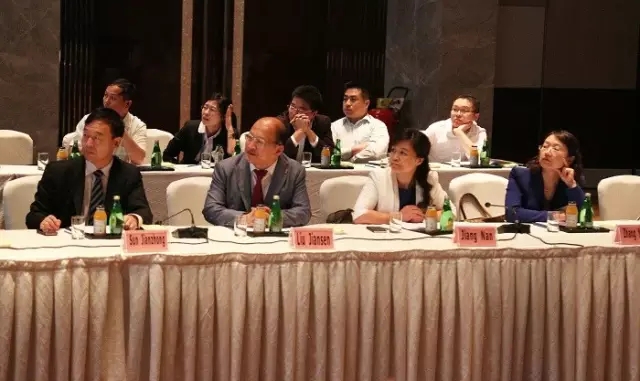 Days ago, Mr. Wang Min, president of XCMG, led a delegation to the Middle East and signed an order of more than 1,000 equipments worthing more than $65 million.Other latest large orders include 400+ equipments to South America and $ 5 million worth of equipments during Turkey Build Istanbul.
"Mr. Wang Min and his team in XCMG have always advocated and implemented the business philosophy 'Customer First'. The fastdevelopment of XCMG depends its endovour of meeting customer demands" said LiuJiansen, general manager of XCMG Import & Export company.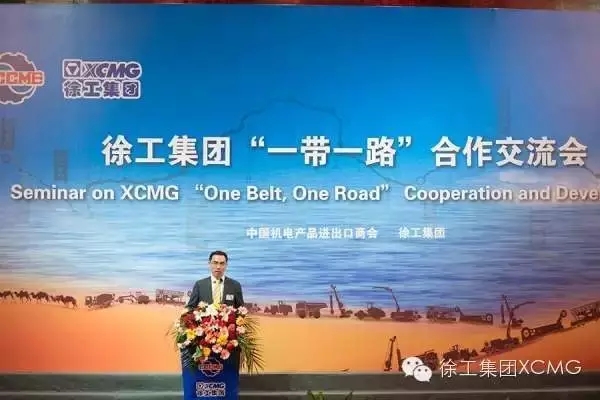 Sheng Guofei, Deputy Director of International Department of CCCME
XCMG always takes the lead in innovation with the concept of"Localized production and sales". Thanks to more than 20 years of endeavors, It has developed a batch of customized products for countries along the belt and road. XCMG made an all-round improvement to vibration/noise damping performance of its products like excavator, HDD machine, large-scale loader, skid loader,road roller, and crane truck, etc. For example, it has products of SE Asia type that adapt to wet hot climate, products of Russia low-temperature type that adapt to chilly climate,and products of Middle East type that adapt to sandstorm and dry hot climate.
In recent years, XCMG brought forward the "Family" concept and established win-win cooperation with its dealers., In 2014, XCMG founded an Overseas Marketing Strategy Consultative Committee with its Top 10 dealers,which is the first of its kind in the field. The committee is a kind of interest communitywhere XCMG shares profits and risks with its dealers. The relation between XCMG and its dealers has gone beyond simple trading relation. For example, in case its dealer gets into difficulties, XCMG will offer timely supports and assistances. If a dealer lacks funds, XCMG will grant it extension of deadline through Sinosure, or provide it with some circulating funds through credit insurance. XCMG always helps its dealers overcome difficulties.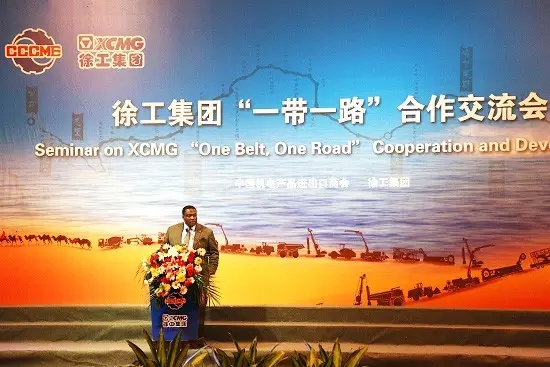 Vice Ambassador from Ghana
Mr. Bobir, dealer in Kazakhstan and ranked amongst "Top 10 Dealers" in several consecutive years, treates himself as people of XCMG. He notonly plays an exemplary role in product sales and construction of spare partscenter, but also capitalized on his market relations and resources ingovernment to facilitate construction of XCMG Excavator Factory. "My great grandfather once visited Lanzhou riding a camel, and now am I retracing the Silk Road by airplane. XCMG is my home in China", said Bobir. To enrich his knowledge about China, he even sent his son to Beijing for study of Chinese.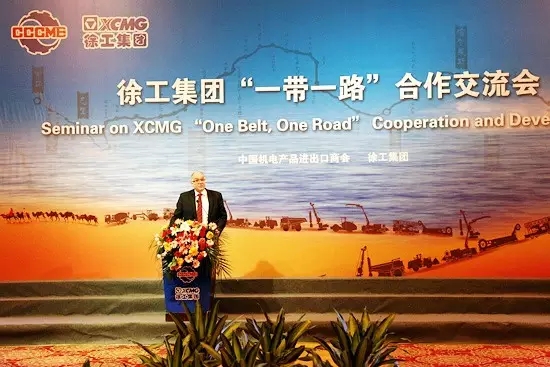 First Counsellor from Poland
In 2015, responding to the implementation of "New SilkRoad", XCMG brought forward the concept of "New Service" aiming to improve its overseas service quality and system. Since 2011, XCMG has embarked on redoubling construction of overseas service spare parts system, and made tremendous endeavors in improving its service system, spare parts system, and training system. By establishing the service provider licensing mechanism, XCMG streamlined the supply of the main equipment factories' spare parts. Among other things, it set up an E-commerce platform for coordinated management of overseas spare parts, kept on refining service spare parts outlet layout and service training model, and established theme chanism for authenticating and grading the dealer service staff training system, in order to consummate its new overseas service spare parts system.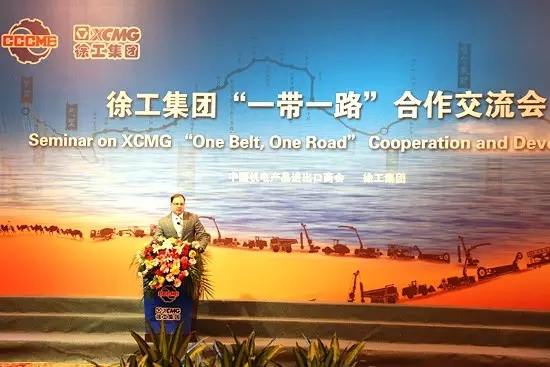 Minister-Counselor from Russia
The service activity in 20 countries along the belt and road will be carried out with corresponding marketing promotion activities including 16 international exhibitions and product promotion activities in 15 countries.Services in the oversea service activity will delivered to nearly 10,000 products (53.7% of all XCMG products in these countries) within the warrenty period including hoisting machinery, earthmoving machinery, road machinery,excavators, concrete machinery, piling machinery, and heavy duty trucks, etc. During the XCMG will provide inspection and maintenance to the products, give operators operation and maintenance suggestions and provide free filters to them. Service staff will also ask for construction information, need for equipments, demand for spare parts, etc. and will take measures accordingly. In addition, XCMG's service staff will visit all Chinese-funded enterprises' overseas construction sites, offering them services and supports.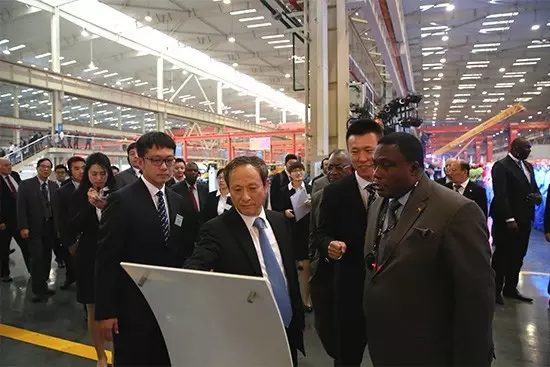 While improving its service quality, XCMG sends its care tomachine operators by visiting them and giving them presents. During the activity, XCMG will visit 1000 operators in countries along the belt and road.
In 2014, XCMG products were exported to 48 of the 65 countries along the belt and road with a total value amounted to US$ 980 million, sharing 76.1% of XCMG's total export volume. Today, XCMG's marketing channel covers 42 countries along the belt and road with 80 level-1 dealers, 4 KD factories (respectively in Uzbekistan, Malaysia, Poland, and Kazakhstan), 17 spare parts centers, and 16 representative offices.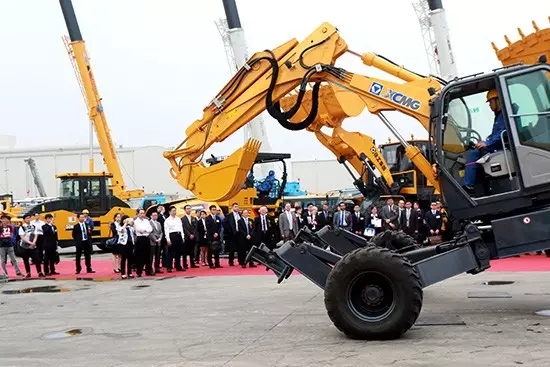 XCMG is also speeding up its construction of spare parts and service centers in countries along the belt and road. It will build new spare parts centers in Russia, Algeria, Sri Lanka,Cambodia, Russia, the State of Mongolia, Thailand, Cambodia, Turkmenistan, USA,and Canada, etc. These new spare parts and service centers will broaden XCMG's service coverage, improve timeliness and accuracy of spare parts supply, and will bring better customer experience.